Kochi Method did a Seminar in Belgium, Philippine and Indonesia over the course of 2 weeks.
The help from the organizers and how happy the participants were, left quite the impression on me.
All 3 of these countries experienced Kochi Method for the first time and started on Theme 1.
I heard the following quotes from the participants,
"This is a fantastic technique."
"This is amazing."
"I'm happy to have been introduced to Kochi Method."
"What was that I've been learning up to now?"
Someone even said this,
"I was doubtful at first because the pain went away very quickly on the YouTube video, but as as the Seminar went on my doubts were proven wrong and even I was able to remove pain on the spot and felt sorry for doubting Kochi."
Kochi Method is capable of greatly improving your treatment level for a reason.
We do treatments after testing to determine where the pain is actually coming from.
We use the link between muscles and can even improve the conditions caused by organs.
We can relive pain without needing much strength which as a result reduces stress on the client and the therapist. The client's condition improves without pain which will lead to them recommend your treatment to more people.
The reduced stress on the therapist will allow them to continue treating even in their later years, and no joke even beyond the age of 80.
You could even do treatments while on a wheelchair when it becomes difficult for you to walk.
Please have a listener to the comments from the participants from the link below.
It's in English.
☟          ☟
Kochi Method seminar 2020
【India】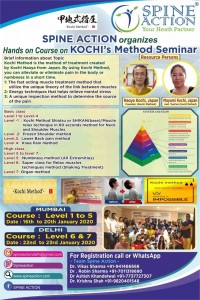 Contact Us : Team SPINE Action
https://www.facebook.com/spineactionhealthpartner/
【ROMA,Italy】
18-19/ 01 theme 1 (firenze)
08-09/02 theme 2 (roma)
28-29/03 theme 4 (roma)
09-10/05 theme 1 (roma)
27-28/06 theme 3 (roma)
Sensei : Valentina Puccio and Lucia licheli.
Contact Us : https://www.facebook.com/Rilassamento-Muscolare-Kochi-Method-174160189805050/
【MILANO,ITALY】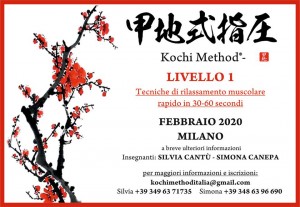 Sensei : Silvia cantu and  Simona canepa
Contact Us : https://www.facebook.com/silvia.cantu.94
【Philippines】
5th – 8th April
Contact Us : Leomil Adriano
⇒ https://www.facebook.com/leomil.adriano
【Estonia】
29th May – 1th June
Contact Us : Moonika Laanetu
⇒ https://www.facebook.com/Monsake