Hello, Everyone.
I'm Naoya Kochi, a Japanese Shiatsu therapis and Kochi Method® Representative teacher.
※Shiatsu / Anma / massage.National qualification in Japan.
Kochi Method Home Page(English)
http://kochi-massage-method24.com/en/
———————————————-
Also if we've never done Kochi Method in your country we just need an organizer who are willing to arrange a Seminar.
We are currently looking for an organizer so if you can help we would be very thankful.
If anyone is interested please send a message.
⇒ info@kochi-channel24.com
———————————————
Kochi Method is capable of relieving pain and discomfort even some problems that occur in the nerve from stress, with its combination of muscle link theory and unique inspection methods for finding the source of pains.

It has nothing to do with Meridian from Eastern Medicine or Fascia from Western Medicine.
We produce results from the unique theory of the link between muscles.

I have proven this theory throughout my treatments and there are no other like it.
For example the Thenar Eminence of the hand is a group of 4 muscles at the base of the thumb.
Out of which 3 are controlled by Nervus Medianus and 1 is controlled by Nervus Ulnaris.
It is controlled by 2 separate nerves and is linked to completely different muscles.
Where do you think it's linked to?
It is the Scalenus Muscle in the neck, when the Thenar Eminence of the hand hardens from fatigue the Scalenus Muscle could react and harden which may cause some pain around the Cervical Spine.
Problems in the Scalenus Muscle severely limits the maneuverability of the shoulders, Diaphragm, even affects internal organs and your posture.
It even can cause symptoms such as the Frozen Shoulder.
In this case the Frozen Shoulder is caused by problems in the Thenar Eminence of the hand.
I'm sure most of you don't think that treating the base of the thumb could relieve Frozen Shoulder.
However because of this by proving it in front of people's eyes the Therapists and Clients are surprised.
Only through a Seminar you can fully understand Kochi Method.
Here are the details on the dates.
Kochi Shiatsu massage Method® Schedule 2019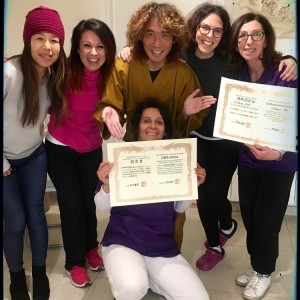 ● Kochi Method Seminar in India – July and August!
Mumbai and Delhi
30.31-July and 1th August: Mumbai
3,4 – August:Delhi
For Registration:TEAM Spine Action-
Call/Whatsapp
Dr.Vikas Sharma- +91-9414666685
Dr. Robin Sharma +91-7011318680
● October
・Italia,Milano
・France,Bordeaux
・Estonia
・Romania,Cluj-Napoca
I'll let you know the details later.