Treating as Kochi Method and Shiatsu operator and teacher,I meet a lot of people that suffer from phisical pain or poor health.
A client has come to my clinic. The patient had a numbness and pain on the left leg.
Someone has introduced me to the patient. So he has come to be treated by me.
He has got the treatments six times and completely recovered, and he has told me "until now I was sufferd on the leg. But now I am freed from the pain. Thank you very much".
As an operator, everyday, I do my best to eliminate or to alleviate the patients' pain.
No other work is as suitable for the words "devote myself to others" as this work.
I want to bring about happyness to people as many as I can.
What I can do for others is to do treatment and to cure patients of their physical pain.
Today, I work hard for everyone's happyness!
I am looking forward to meeting everyone that partecipate in the Kochi Method seminar!
【Kochi Method seminar 2019】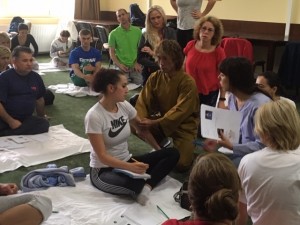 ● October : Italia/France/Estonia
● Nobember : Romania
● December : Belgium(undecided)
【Kochi Method Free e-Mail Learning Program】
Please click this URL : https://kochi-massage-method24.com/en/lp/